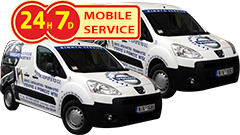 24h/7d MOBILE SERVICE
We equipped our company with vehicles-mobile workshops so we can respond to our customers' needs that may arise anywhere in Greece. So, 24 hours a day and 7 days a week when you can not bring your vehicle to us, we come to you. Our goal: everyone goes back !!!
With our mobile service we make sure that the immobilized vehicle by mechanical failure will be able to move and go to our workshop to repair and restore the damage.
© 2016 volvo service center - wd: ippocampus ds