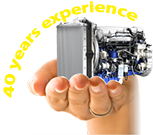 As a company we provide services according certified procedures. All these procedures are checked and certified about the quality and the productivity. The best proof of this is our customers continuing visiting our Service Center, so we solve their simple or complex problem they face.
For us, a Volvo™ vehicle of your own is your mobile store. And we want this store to be open and fully function for ever, without causing any trouble or sudden situations to you, the owner!
Mobile Service:
the truck is a continuous moving part of our business life. So do we!!..
© 2016 volvo service center - wd: ippocampus ds